E-mail
GREAT PLAY!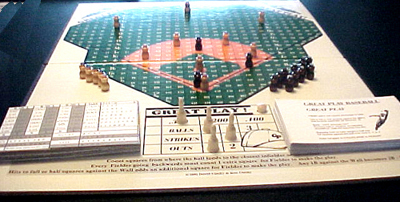 "It captures the complexity and beauty of baseball in a simple-to-play board game."
"The game is determined by the strategic positioning of fielders on the baseball diamond and the constant decision-making skills of the two players or managers."
---
A game for two players who manage their teams. Managers select lineups, position players, make decisions on every pitch and on every play. Pick your batting order. Position your players on the field. Choose which pitch to throw. Decide whether to take, swing, bunt, or steal. Manager declares a pitch. Batter declares either swing, take or bunt. Turn over the top card to read the result next to the declared pitch. If the batter swings, match the pitch with the average of the batter batting left or right handed. Place the hit ball on the hit-to-square. The amount of squares the closest infielder or outfielder is to the hit-to-square determines the result according to the RESULTS CHART.
RESULT CHANGERS: GREAT PLAY! ERROR, Etc. on the backs of the very next card can change the result if it applies to the current play. Result changers are fully explained on the cards. Wind result changers -right, left or out - can blow a line drive, fly ball or pop-up over the wall and change the result to a homer or a foul. Result changers multiply all the possibilities!
"Great Play! is as close to the essence of baseball as a board game can be!"
---
MADE IN USA!!!
"Great Play! was designed by Ron and David Clasky, a father and son from Chicago who grew up loving the great game of baseball!"